Clinician Stories: An Interview with Christine G. Dale, OTR/L, ATP
Clinician Stories: an interview with Christine G. Dale, OTR/L, ATP
Michelle L. Lange, OTR/L, ABDA, ATP/SMS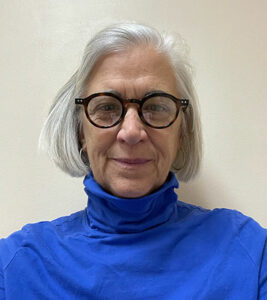 Christine (Chris) is the Director of Therapy Services at North Mississippi Regional Center. She has been practicing for nearly 50 years and loves what she does! She works with a number of clients who use Dynamic Seating and was kind enough to talk with me about her experiences.
Chris, tell me about yourself.
Chris went to Indiana University to become an Occupational Therapist and began working in 1973. This was a challenging time in the world of complex rehab technologies as very little was commercially available. She observed teams making their own seating systems at Riley Hospital in Indianapolis IN and even used some early prototypes of molded seating systems using weather balloons! The available wheelchairs only had a recline option – tilt in space hadn't been invented yet!
When Chris started at North Mississippi Regional Center in 1980, one of the residential 'cottages' was occupied by clients who were in bed 24/7 as no one had been able to position these people in sitting. Chris had to get creative with the seating and the wheelchair base. Her most challenging client before or since was Dareena who had opisthotonos.  Chris positioned her prone, mounted a Gunnell trough on a wheelchair base, made a Foam-in-Place custom cushion for her back and positioned it with a wide strap to distribute the pressure and hold it in place. She remains one of the most challenging clients ever. Over time, Chris managed to get each of these clients sitting upright and supported so they could enjoy time outside and see life beyond their cottage.
Now the Director, she supervises OTs, PTs, SLPs and an Audiologist, while still working with clients. "I don't expect the staff to do anything I wouldn't do." Of all her job duties, her favorite is anything involving seating and positioning. Working in the Regional Center gives the staff the luxury of time. They have ready access to the clients. A seating evaluation can take as long as needed. There is no pressure for billing and productivity. If equipment is recommended, it covered by Medicare, Mississippi Medicaid, or support from the center.
How would you like to be stuck in one position all the time? If you have a few things you can move, why not? – Chris Dale
When do you Recommend Dynamic Seating?
Chris primarily uses Dynamic Seating with clients who have Cerebral Palsy. Some of these clients have high muscle tone and others have dystonia. Her goals include the following:
Preventing equipment breakage: The clients Chris works with are a "special group of people".  They have broken 'everything.' This includes back canes, footrest hanger receivers, and pushing footplates out of alignment.
Preventing client injury
Pressure relief: If a client's incontinence product does not get changed immediately and their skin is already at higher risk due to aging, movement provides some change in position to relieve prolonged pressure.
Maintaining client position
Providing movement: Clients using aggressive seating solutions can't move as much in their seat and wheelchair without Dynamic Seating.
What Results are you Seeing?
Chris has observed that seating and wheelchairs are no longer breaking. The clients are happier, require less repositioning, and have increased sitting tolerance. The Center's therapists also appreciate the benefits of Dynamic Seating to allow active movement for circulation and pressure relief.
Do you have any other thoughts on Dynamic Seating?
"I've tried other brand Dynamic Footrests and they don't hold up. Seating Dynamics (Dynamic Footrests) do hold up." When using Dynamic Footrests, Chris always orders shoe holders and ankle huggers to keep the client's foot securely on the footplate so that client forces activate the dynamic component.
"I work with a lot of 'rockers' who need to move. I usually order just the Dynamic Back for those clients."
Any thoughts on how to improve Dynamic Seating?
Chris works with one client who exerts enough force to rotate the Dynamic Footrest outward. She also would like to see longer tubing on the Dynamic Footrest receiver for PDG wheelchairs. She is working with Greg Peek now to resolve these issues.
Thanks for taking the time to talk shop today, Chris! Keep up the great work!
Footnote from Greg:  Chris has provided us with some of the most challenging users, a couple of her residents have broken things that I could not have imagined could have been broken.  We are lucky to have her and her product testing group!