Dynamic Seating To Prevent Equipment Breakage, Part 1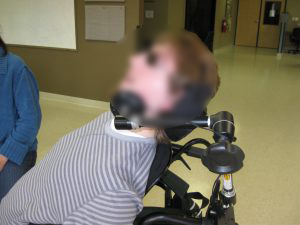 Michelle L. Lange, OTR/L, ABDA, ATP/SMS
Updated 9/12/2022
Dynamic Seating is often used to prevent equipment breakage. Some clients who use wheelchair seating exhibit increased muscle tone. This is common in clients with diagnoses such as cerebral palsy, traumatic brain injury, and Huntington's disease. Increased muscle tone or spasticity is caused by an imbalance of signals from the central nervous system to the muscles. In addition to increased muscle tone, primitive reflexes and involuntary movements may also be present.

So how does increased muscle tone lead to equipment breakage? Muscle tone is not a constant state. Many clients may appear to be quite relaxed while sitting in their wheelchair seating system. However, a number of factors can lead to sudden and forceful extension, particularly at the hips, knees, and neck. This extension is often maintained for a short period of time and then subsides. The forces from this extension on a static wheelchair seat and frame can be so strong as to cause damage suddenly or over time. Hardware used to mount the seating system and components (such as a head support), are particularly susceptible to damage. Breakage frequently occurs at the footplates, footrest hangers, back mounting hardware, and head support hardware. These forces are not entirely dependent on the client's size. Even very lightweight clients can exert enough repeated force over a period of time to lead to breakage.
Dynamic seating is designed to absorb these extreme forces which, in turn, protects the wheelchair seating and frame from wear and tear and even breakage. I have worked with a number of clients who have broken components in the past until using dynamic seating. Less breakage means our clients can use their equipment with less repairs, less interruption to life, and less funding and documentation hassles for providers!
Check out our Quick Class video on Preventing Equipment Breakage