The Gross Motor Function Classification System
Michelle L. Lange, OTR/L, ATP/SMS
The Gross Motor Function Classification System – Expanded & Revised (GMFCS – E&R) is a tool to measure gross motor function of children and young people with cerebral palsy. This tool is typically used from infancy through 18 years of age. More information is available at the CanChild website. Descriptors for each of 5 functional levels are categorized by age: under 2 years, 2-4 years, 4-6 years, 6 and 12 years, and 12-18 years.
GMFCS: What is it?
The GMFCS describes gross motor function on the basis of self-initiated movement and emphasizes sitting, walking, and wheeled mobility. This tool can also be helpful in predicting which children and youth with cerebral palsy are likely to benefit from Dynamic Seating interventions. Let's take a look!
Level I: walks without limitations.
Level II: walks with limitations. Wheeled mobility (typically self-propulsion) may be required for long distances.
Level III: walks using a hand-held mobility device. Wheeled mobility (typically self-propulsion) may be required for outdoor and community use.
Level IV: self-mobility with limitations; may use powered mobility. These children are more likely to require supported seating, are more likely to be transported (typically pushed by a caregiver) in a manual wheelchair or use powered mobility.
Level V: transported in a manual wheelchair (pushed by a caregiver). Children and youth at this level require significant postural support in seating and may only achieve self-mobility using a powered wheelchair.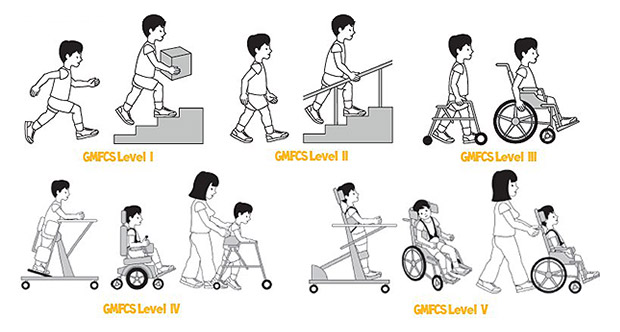 How does the GMFCS relate to Dynamic Seating?
People with cerebral palsy at GMFCS levels IV & V should be screened for potential benefit from Dynamic Seating components, including Dynamic Backs, Dynamic Footrests, and Dynamic Head Support Hardware. At Level IV, more postural support is required and self-propulsion in a manual wheelchair is typically not possible. This child is more likely to demonstrate increased muscle tone, movement patterns, and obligatory responses / reflexes that impact posture and upper extremity function. These clinical issues could also indicate a need for Dynamic Seating to allow movement, diffuse force, and maintain posture.
At Level V, even more postural support is required, and power mobility is required for self-initiated mobility. The child may be using a tilt-in-space manual wheelchair that caregivers are pushing. Clinical issues, again, could indicate a need for Dynamic Seating to allow movement, diffusing force, protecting the client from injury and the equipment from malalignment and breakage, all while maintaining client posture.
Multiple tools are available to test client functioning. While the GMFCS is only validated for children up to the age of 18 years with cerebral palsy, it is a unique tool that correlates gross motor function with typically required seating and wheeled mobility equipment. For children at Levels IV & V, Dynamic Seating intervention should be considered.