Seminal Innovations in Complex Rehab Technology Manual And Power Wheelchairs
Seating Dynamics Owner and Engineer, Greg Peek, has a long history of working to improve the mechanics of wheelchair seating.  An article by Tom Borcherding in the December 2021 issue of NRRTS Directions, Seminal Innovations in Complex Rehab Technology Manual And Power Wheelchairs, looks back at complex rehab and the work of veterans like Greg and his early company, LaBac Systems.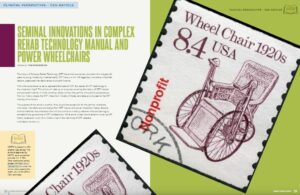 The history of Complex Rehab Technology (CRT) has almost exclusively occurred within the past 60 years. A young industry by most standards, CRT history is rich with legendary innovators, influential leaders, passionate manufacturers and powerful brands.
While the consumers we serve represent the heart of CRT, the center of CRT technology is the wheelchair itself. This article will take us on a journey covering the history of CRT manual and powered mobility in North America, reflect on how the seminal innovations and products from our history shape the CRT wheelchair industry of today, and take a quick peek at the CRT industry of tomorrow.
The purpose of this article is twofold. First, to provide recognition for the seminal inventions, innovators, manufacturers and brands from CRT manual and power wheelchair history. Second, to build historical documentation that will put a smile on industry veterans while also serving to educate future generations of CRT professionals. While some written documentation covering CRT history does exist, much of our history lives in the memories of CRT veterans.
Read more of this article by Tom Borcherding as published in NRRTS Directions, 2021, Vol. 6, pages 24-35.
Reading this article can also earn you CEU. See the article to find out how.