Dynamic Seating: Clinical Implications of Movement
Michelle L. Lange, OTR/L, ABDA, ATP/SMS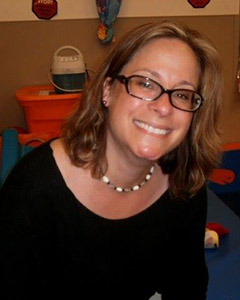 Suzanne Eason, OT/L is a rock star! This OT works at the St. Mary's Home in Virginia and truly applies the latest evidence to her practice – all to the benefit of the clients she works with. One of her specialties is brain growth – leveraging neuroplasticity to facilitate overall development through vestibular input and enriched environments. Suzanne took time out of her busy schedule to chat on the phone recently – thanks!
Suzanne, how long have you been using Dynamic Seating in your own practice?
"In 1997, when I started working here." Suzanne started out by overinflating Roho cushions and using stretchy neoprene anterior trunk supports to provide some client movement and force diffusion. As more product options became available, she began to use the Kids Rock wheelchair, dynamic components from Miller's Adaptive Technologies, and from Degage – the predecessor of Seating Dynamics.
What factors made you first seek out this intervention?
Suzanne noticed that when the clients she worked with were able to move, arousal levels increased, frustration decreased, and clients were staying awake for longer periods of time. She also saw an increase in postural control – she attributes this to increase trunk and neck strength as a result of moving in a limited range against light resistance.
Suzanne also wonders if earlier Dynamic Seating intervention could have improved breathing, vocalization, digestion in many of the older clients she works with.
What do you think is the biggest barrier to people accessing this technology?
Suzanne believes that the complete impact of Dynamic Seating is still a mystery. "What is it actually doing? Is it promoting neuroplasticity, is it protecting the frame?" Our understanding continues to expand with experience and research. Suzanne believes that she has an advantage – she works in a residential setting where she gets to see the impact interventions make over time. She can see the difference Dynamic Seating makes in the clients she works with. Not everyone has this opportunity and so may not appreciate the effectiveness of this technology. "Awareness has increased" however.
What improvements are needed in Dynamic Seating?
Suzanne would like to see Dynamic Backs allow for trunk rotation, like the Tarta back, but for clients who have significant extensor tone and postural support needs.
Keep up the great work, Suzanne! Thanks for your contributions to our field, your clients, and this blog!