Dynamic Seating: providing movement for clinical benefits
Dynamic Seating: providing movement for clinical benefits
Speaker: Michelle L. Lange, OTR/L, ABDA, ATP/SMS
ACTNow Conference 2019
Action Seating & Mobility
Tulsa, OK
November 8, 2019
This event has passed.
Course Description:
Dynamic seating is movement which occurs within the seat and/or wheelchair frame in response to force from the client. Dynamic components absorb force which, in turn, assists the client back to a starting position. Dynamic Seating can be used to diffuse increased tone, provide movement, prevent client injury and prevent damage to the wheelchair seating system and frame. This course will take a look at the product options, discuss clinical indicators for dynamic components, review available research results, and present case studies to illustrate these points.
Course Objectives:
The participant will be able to:
Define dynamic seating.
list 3 goals of Dynamic Seating.
describe 3 clinical applications of Dynamic Seating.
Describe Dynamic Seating research results.
 list 3 clinical applications for dynamic wheelchair components vs. static options.
list 3 clinical indicators for a dynamic movement of the pelvis.
list 3 clinical indicators for dynamic movement of the lower extremities.
list 3 clinical indicators for dynamic movement of the neck.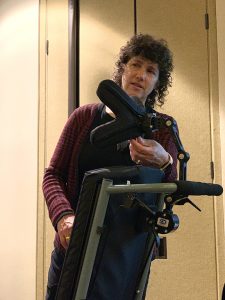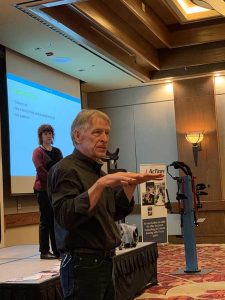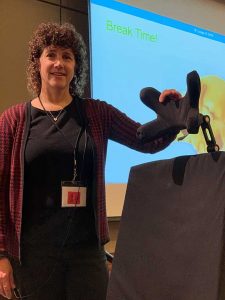 References:
1. Furumasu, J. (2017). Consideration when working with the Pediatric Population. In Seating and Wheeled Mobility: a clinical resource guide. Slack, Inc., Thorofare, NJ.
2. Adlam, T., Johnson, E., Wisbeach, A. and Orpwood, R. (2015). Look at me! A functional approach to dynamic seating for children with dystonia. Developmental Medicine & Child Neurology. Vol 57, pg 27.
3. Mattie, J., Borisoff, J., Miller, W. C., & Noureddin, B. (2017). Characterizing the community use of an ultralight wheelchair with "on the fly" adjustable seating functions: A pilot study. PloS one, 12(3), e0173662.
4. Eason, S. (2015). Enhancing Development with Dynamic Wheelchair Components. Directions, (4), 50-52.
5. Freney, D. and Schwartz, K. (2015). Dynamic Seating. Directions, (4), 45 – 48.

Biographical Summary:
Michelle Lange is an occupational therapist with over 30 years of experience in the area of assistive technology. She is the former Clinical Director of The Assistive Technology Clinics of The Children's Hospital of Denver and is now in private practice; Access to Independence, Inc. Michelle's work in assistive technology covers a broad range of roles and services. She evaluates and treats children and adults with a variety of diagnoses as well as provides consultation and education in the areas of wheelchair seating and mobility, accessibility, assistive technology access, mounting, interfacing and electronic aids to daily living.