Dynamic Seating to Provide Vestibular Input, Part 2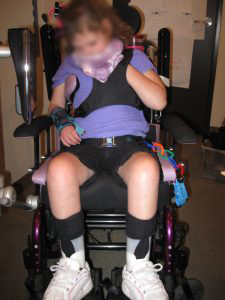 Michelle L. Lange, OTR/L, ABDA, ATP/SMS
Updated 9/21/2022
Our last blog discussed how dynamic seating can provide vestibular input for clients. Vestibular input can, in turn, calm agitated clients and help sub-aroused clients be more alert. Movement can also increase comfort and general muscle activity.
Rachel's Dynamic Seating Story 
Rachel is a 12 year old girl with the diagnoses of cerebral palsy, hydrocephalus, seizures, and optical nerve atrophy. Rachel is seated in a linear seating system on a tilt in space manual wheelchair during the day at school. She spends much of her day with her left arm tucked under her anterior trunk support and her head propped on her left fist. She is very unresponsive and appears to be asleep. However, when she is at home, Rachel sits independently in a standard rocking chair. In response to rocking, Rachel lifts her head, vocalizes, smiles and engages with others. She does not require the anterior and lateral supports of her current seating system to maintain sitting; these components are present to support her when she is sub-aroused.
How A Dynamic Back Helped Rachel
Rachel was placed in a wheelchair with a dynamic back. At first, she did not move. The back was moved by the team for her several times before she realized that she could elicit this movement by rocking. Although able to move the dynamic back, this was difficult for Rachel. The elastomers were replaced with the softest available, allowing the dynamic back to respond very easily to Rachel's movements, similar to her rocking chair at home. After trialing this system for 2 weeks, Rachel was frequently choosing to rock in the manual wheelchair and, as a result, was much more alert and engaged at school.