FAQ: When is Dynamic Seating NOT Clinically Indicated?
Michelle L. Lange, OTR/L, ABDA, ATP/SMS
Are there instances when Dynamic Seating is NOT indicated for a client? A while back, a colleague of mine stated, "why wouldn't we let a client move?" We are wired to move and seek out movement for a variety of reasons. Personally, I'm not a big fan of sitting still.
So, when is movement NOT indicated?
If a client is unable to move, volitionally or otherwise, then movement within the seating system and wheelchair frame is not indicated. For example, a client with profound muscle weakness (i.e. ALS or SMA) will not be able to activate the dynamic components. A client unable to activate dynamic components will still require movement for pressure redistribution, comfort, postural management, and/or fatigue management. This can be provided through features such as tilt or recline that are controlled by the caregiver or the client.
Other clients may be able to readily move within their seating system without loss of posture and not require movement of the seating system and wheelchair. These clients typically do not require complex seating and are quite active.
Are there circumstances where the dynamic component should be locked out to prevent movement?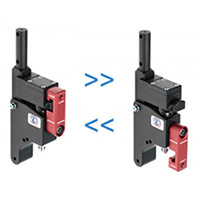 Yes. It could be that dynamic seating is clinically indicated, but that movement may be prevented at specific times. The Dynamic Rocker Back interface (DRBi) should be latched (locked out) when the wheelchair is being transported with the client in the chair. Some families find that latching the back is helpful when going over rough terrain, if excessive bouncing is occurring. Finally, some clients extend significantly during oral feeding and may have better oral motor control and less risk of choking with the back latched. For more information, check out this blog.
Are there times that dynamic seating is indicated, but changes are required to meet the client's needs?
Resistance. It is important to ensure the client can return to their starting position after activating the dynamic component. If not, the component resistance may need to be increased. If this is not adequate to return the client to upright, dynamic options may not be appropriate. If the client is not returning to upright with the firmest elastomer, please contact us as there may be other issues we can address..
Posture. It is also important to ensure the client return to an appropriate posture. For example, a client may return to upright after extending at the hips but assume a posterior pelvic tilt. Individual manufacturer's dynamic components work differently and may vary in ability to return the client to an optimal posture. Our components are designed to follow the body's natural pivot points to maintain alignment. If the client is losing alignment after dynamic seating activation, please contact us as there may be other issues, such as choosing the optimal seating system.
Extension. Some clients may experience increased extensor tone and/or postural insecurity and anxiety in response to dynamic movement. Decreasing the amount of movement may help. Our DRBi moves enough to diffuse force, but not to a degree likely to elicit these concerns.
Is Dynamic Seating for everyone? No. However, many wheelchair users will benefit from dynamic seating. For more information on clinical indicators, please check out this blog.