Literature Review on Dynamic Wheelchair Seating
Access 150+ published and unpublished resources in our literature review on Dynamic Wheelchair Seating from around the globe. This term is used in multiple contexts. Some articles refer to dynamic seating but are addressing changes to the seated posture during manual wheelchair propulsion. Other articles refer to dynamic surfaces or cushions that "actively redistribute pressure on the body surfaces." (i.e. Stephen Sprigle PhD, P. T. (2011). Assessing evidence supporting redistribution of pressure for pressure ulcer prevention: a review. Journal of rehabilitation research and development, 48(3), 203.). Some articles refer to a seat's "dynamic stiffness" (i.e. Garcia-Mendez, Y., & Boninger, M. L. (2012). Dynamic stiffness and transmissibility of commercially available wheelchair cushions using a laboratory test method. Journal of rehabilitation research and development, 49(1), 7.). This review explores literature in the context of dynamic wheelchair seating where a part of the wheelchair or wheelchair seating system moves in response to client movement.
This document is regularly revised to update and add references. Last update was 6/2021.  Download to read more.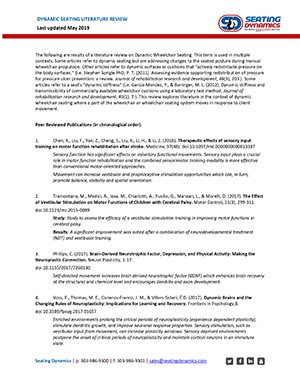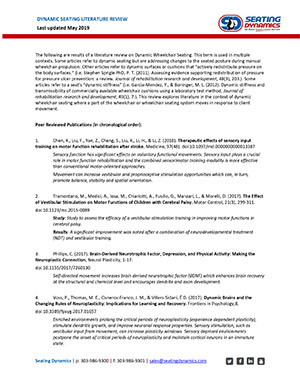 Download a Copy
It looks like Javascript isn't enabled in your browser. Please enable it in order to fill out this form.