Dynamic Stories: an interview with Jordan Joslin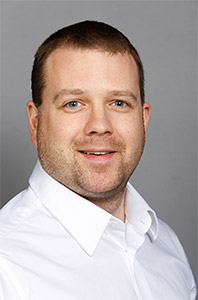 Michelle L. Lange, OTR/L, ABDA, ATP/SMS
Jordan Joslin is an ATP/SMS, CRTS in Erie, PA who works for National Seating & Mobility. He was kind enough to spend some time with me on the phone recently to discuss his experiences with Dynamic Seating.
Jordan, how long have you been working in this industry?
Jordan has been in the industry for about 10 years. Coming out of high school, he wanted to be an architect. After a number of classes, he shifted gears and took 3 semesters of engineering instead. Shifting gears again, he began to pursue a degree in physiology with aspirations of going to on to earn his DPT. While preparing for PT school he had the opportunity to observe Janet Noland, MPT at Shriner's Hospital doing a mobility evaluation – and was hooked. Jordan then started working for a supplier where he still uses principles learned in those architecture, engineering, and physiology classes.
How long have you been working with Dynamic Seating?
Jordan began working with various dynamic seating solutions about four years ago. Two years ago, he began working with Seating Dynamics and was very impressed with their customer service, the functionality of the equipment, and the durability of the products.
How are you using Dynamic Seating with the clients you serve?
Jordan's primary goal is to maintain positioning. He and his team do a lot of complex positioning with their clients and are often dealing with movement patterns and asymmetries. Despite a great initial position, the client may thrust once, move out of position, and then have to be repositioned 10-20 times an hour. Dynamic Seating moves with the client, reducing shear forces between the client and the support surfaces and, as a result, helps the client to maintain position. Jordan's second goal is maintenance of equipment. All of that energy has to go somewhere, and when it goes into the frame, equipment will fail.
What Dynamic Seating components are you using?
Jordan uses the Dynamic Rocker Back interface (DRBi) most frequently. He then uses Dynamic Footrests next in frequency, though often uses these two components together. He is having great results with this combination. He finds most movement at hips and knees in his clients. Jordan has not used Dynamic Head Support hardware as often, as he is not seeing many clients with forceful cervical extension.
What is the clinician response in your area?
Initially, clinicians had dismissed Dynamic Seating solutions; however, after a few success stories (using Seating Dynamics components), these clinicians are now open and using Dynamic Seating solutions again. They often bring it up before Jordan does!
What feedback are you getting from families?
They really like the Dynamic Seating solutions and are impressed by it. They noticed significantly improved equipment longevity with less maintenance and are thrilled that the equipment is meeting the high demands of the families so well.
Jordan, do you have any other thoughts on Dynamic Seating?
At the end of the day, Jordan is in customer service. If a client is not happy, he and his company may lose that client. One of the biggest reasons clients leave is 'bad equipment.' Dynamic Seating can prevent breakage and facilitate good positioning – providing the perception that the equipment is 'good,' as it is meeting client need.
"As a Seating & Mobility Specialist, I've been very pleased with Seating Dynamics. Well designed products that are easy to work with and meet the clinical needs of my clients. Quality manufacturing and excellent customer support!"
– Jordan Joslin, ATP/SMS, CRTS
National Seating and Mobility
Erie, PA