Determining Resistance: Head Support
Michelle L. Lange, OTR/L, ABDA, ATP/SMS
This blog is the third in a series on determining the optimal resistance when using dynamic components. The first blog in this series addressed determining resistance in the Dynamic Rocker Back Interface (DRBi) and the second blog addressed finding the optimal resistance when using Dynamic Footrests. In this final blog, we shall turn to the Dynamic Head Support Hardware.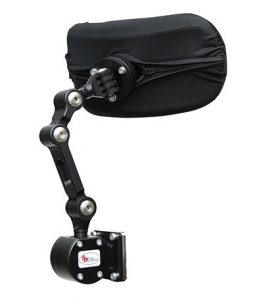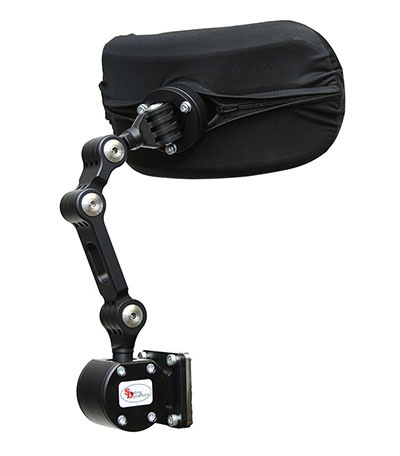 Seating Dynamics Dynamic Head Support Hardware responds to neck extension and/or rotation by moving directly rearward and midline. The hardware package comes standard with eight Blue elastomers, providing a Firm level of resistance. Four of these elastomers are designed to absorb and diffuse impact forces and the other four are designed for rebound – to return the client to a starting position. The hardware ships with four additional Green (Extra Firm) elastomers, if required.
How do I determine the most appropriate resistance level?
If the resistance is too soft in the Dynamic Head Support Hardware, you may observe too much extraneous head movement. Too little resistance can decrease stability and lead to neck hyperextension. If the resistance is too firm, little or no movement (and as a result, force diffusion) will be noted.
One unique consideration with Dynamic Head Support Hardware is leverage. The hardware utilizes a series of links to achieve the desired height of the head pad itself. This total length of links will vary with the height of the client and where the hardware is mounted on the back of the seating system. The longer the length, the more leverage is present. Increased leverage creates more force against the elastomers. If the lever arm is long, a firmer elastomer may be required.
As with all of our dynamic components, it is important to check the elastomers at least once a year for wear. If more movement is present than when the Dynamic Head Support Hardware was installed, the elastomer most likely needs to be replaced.
The ability to vary resistance meets an individual's unique needs. Although all of our Dynamic Components come standard with default elastomers and/or springs, it is critical to evaluate the level of resistance required at installation and fitting with the client.
Check out our Quick Class video course on determining dynamic head support resistance.