Whole Body Extensor Spasms and Dynamic Seating
Michelle L. Lange, OTR/L, ATP/SMS
Some individuals with cerebral palsy or related conditions experience "frequent whole body extensor spasms which cause their limbs, neck, and back to extend involuntarily and powerfully. These spasms can cause discomfort and pain" (Adlam, et al., 2009). Some individuals exert enough force to extend at the hips and knees until appearing to 'stand' in the wheelchair (Avellis, et al., 2010; Hong, et al., 2006, pg. 4).
In the past, whole body extensor spasms were often referred to as an Extensor Thrust or Extensor Thrust pattern, referring to the extension which could suddenly and forcefully occur at the client's hips and knees. Whole Body Extensor Spasms is a recently introduced term which is more descriptive of what is actually happening to the body.
Below is an individual with cerebral palsy experiencing a whole body extensor spasm while sitting in a wheelchair with Dynamic Seating.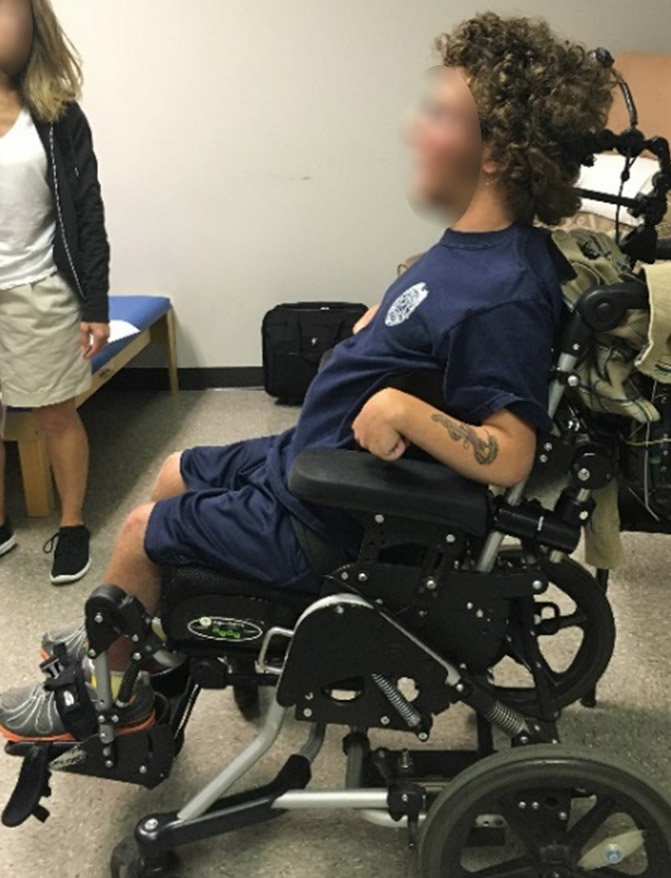 Figure 1.
Relaxed upright sitting position.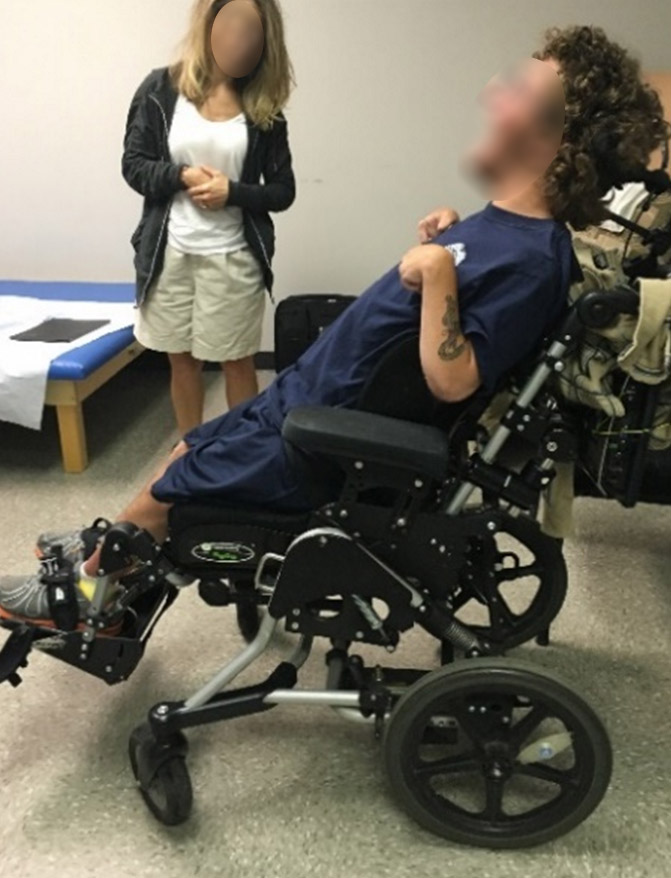 Figure 2.
Whole Body Extensor Spasm leading to hip, knee, and neck extension, Dynamic Seating moving with client in response to client force, storing energy and allowing return to original position once force ceases, without loss of position, in combination with appropriate seating system.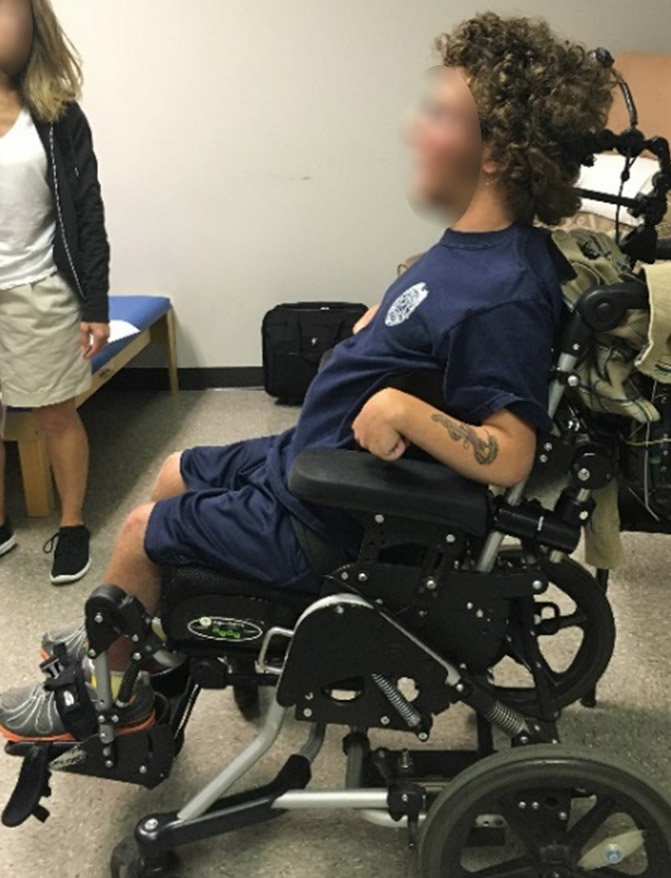 Figure 3.
Return to upright with assistance from Dynamic Seating without loss of position, relative to the seating system.
In a static seating system, as client force is imparted against a non-yielding surface, extensor forces increase. Spasticity increases with resistance, such as client forces exerted against a non-yielding surface (Bar-On, et al., 2018). As this force is not accommodated, the client extends at the hips and knees, moving in relation to the static seating surfaces. This can result in a client who is literally standing up in their wheelchair seating system and experiencing shear forces between the posterior trunk and back of the seating system. When the Whole Body Extensor Spasm subsides, the client ceases hip and knee extension, collapsing back into the seating system. As the seating surfaces are static, there is nothing to guide the client back to the preferred seating position. Typically, the client ends up sitting in a posterior pelvic tilt.
With a Dynamic Back, as client force is imparted against a now yielding surface, extensor forces are diffused, and the support surfaces move with the client's body surfaces. This contact limits shear forces and, in combination with a correct pivot point, returns the client to the preferred seated position, without loss of posture.
Do you work with clients who experience Whole Body Extensor Spasms? If so, we'd love to hear from you! Just leave a comment below and I will be in touch!