Dynamic Head Support Hardware
The Seating Dynamics' Dynamic Head Support Hardware allows neck extension, diffusing and absorbing force to protect the client, protect the hardware, and reduce overall extensor tone. The Dynamic Head Support Hardware can be used on its own or in combination with the Dynamic Rocker Back and/or Dynamic Footrests to maximize desired outcomes. The Single Axis version moves posteriorly and the Multi-Axis version captures both posterior and rotational movement. 
Explore Dynamic Head Support Hardware
The Dynamic Head Support Hardware moves in response to client  force, capturing posterior movement (single axis)  or rotation (multi-axis).
How does the ability to move affect equipment and the client?
Forces are absorbed and diffused

, protecting both the client's head and neck from injury  as well as the head support  from loss of alignment or damage.

Extensor tone is diffused

, reducing overall tone and posturing, increasing function, and conserving energy.

Movement is provided, which can assist in maintaining posture,  increasing sitting tolerance, decreasing agitation, increasing alertness, and even increasing function.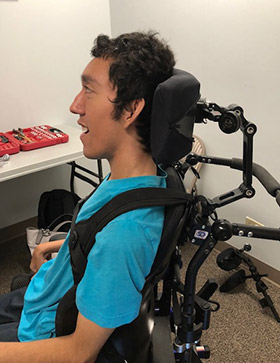 Jonathan has significant extension throughout his body secondary to cerebral palsy. He had a long history of breaking head support hardware. Dynamic Seating moves in response to his extension and assists him back to neutral positioning. Watch how it works.
Benefits of Dynamic Head Support Hardware
"He loves it! This has saved the chair from breaking down because he has moving components now."
"I have used dynamic backs several times in the past for clients with head trauma or cerebral palsy with periods of high extensor tone that broke back canes or headrest hardware. Definitely a needed component for those clients."
"The use of a dynamic headrest on this kind of patient should be the standard, not just to protect the equipment, but the patient." Referring to clients who repeatedly contact their head support with significant force.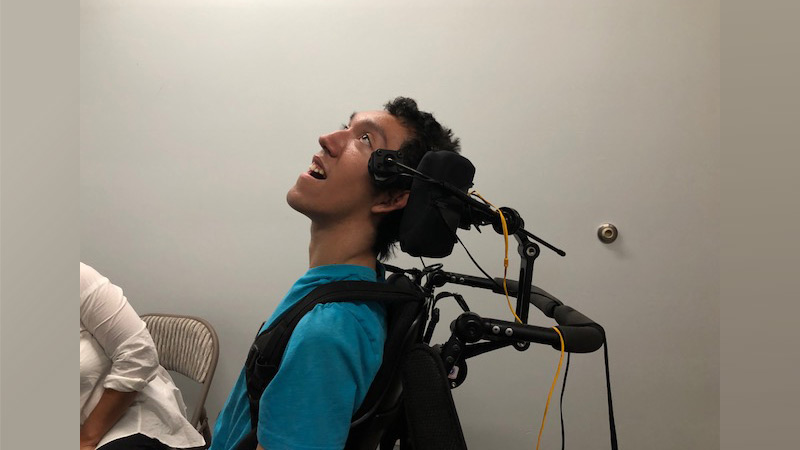 Jonathan's Dynamic Headrest in Action
Jonathan has significant extension throughout his body secondary to cerebral palsy. He had a long history of breaking head support hardware and so a Seating Dynamics Dynamic Head Support was recommended. He has since also received a Dynamic Back and Dynamic Footrests. In combination, these components diffuse his extreme extension forces, preserving his posture and facilitating function.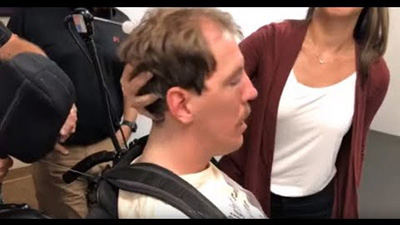 Determining if Dynamic Head Support Hardware is Appropriate
In general, if a client has moderate to significant neck extension, is seeking movement, and/or has a history of equipment loss of alignment or breakage, Dynamic Head Support Hardware may be appropriate. However, trialing this equipment can be challenging. How do you determine if this intervention is appropriate without actually trying it?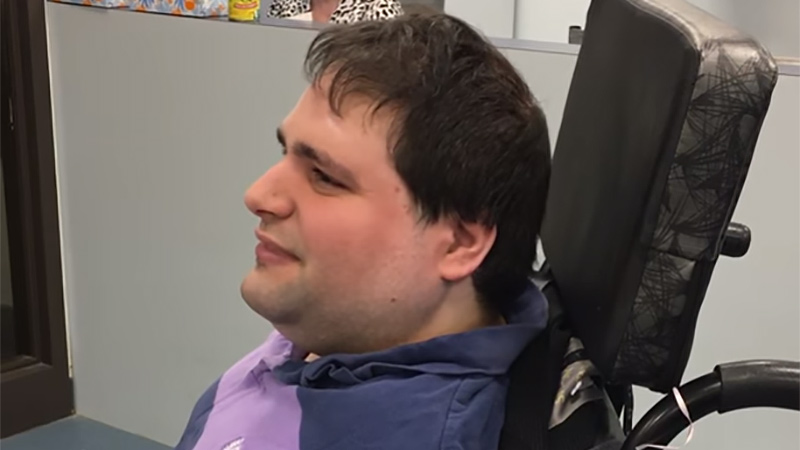 Accommodating repeated banging against a wheelchair head support
In this video, Phillip does not yet have a dynamic head support and has a bald spot on the back of his head from repeatedly banging against his current static head support. The current hardware has been reinforced to stop breakage. Phillip received his new Seating Dynamics Dynamic Head Support Hardware which moves with him, has prevented breakage, and his hair is regrowing!
Technical Information & Options
The Dynamic Head Support can be customized in a variety of ways and with the appropriate amount of resistance to optimize client use.
Resistance
The elastomers can be switched to change the level of resistance. The hardware comes standard with Blue (medium) elastomers to provide movement and return the client to a starting position. If increased resistance is needed, two Green (firm) elastomers are supplied to be used in the anterior / posterior axis.
Adjustability
The links are available in three sizes: 2", 4", and 6". Each Single or Multi Axis Dynamic Head Support Hardware kit includes one of each of these link sizes. Extra link lengths are available. The various length links may be combined in any order to achieve the desired position and either 2 or 3 links can be combined.
Maintaining Alignment
Our hardware replaces the ball and socket with a multiple disc finger joint. This provides a large degree of adjustment while maintaining position. This design provides over 3 times the clamping area, allowing the hardware to maintain position, even under extreme forces.
Connect with Seating Dynamics
Dynamic Head Support Hardware Resources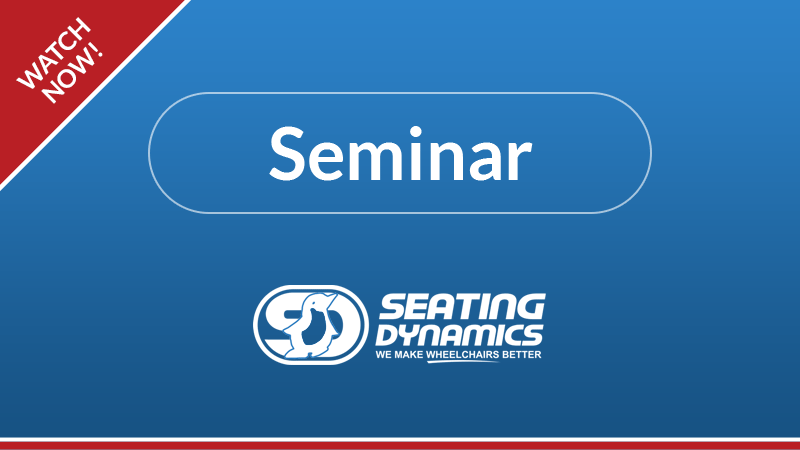 Join OT Michelle Lange for this Numotion hosted webinar on how Dynamic Seating provides movement within a wheelchair, and how this movement can lead to clinical benefits.
Read More