Adding Function Through Movement
Seating Dynamics offers two different adaptations for wheelchair backs:
Dynamic Rocker Back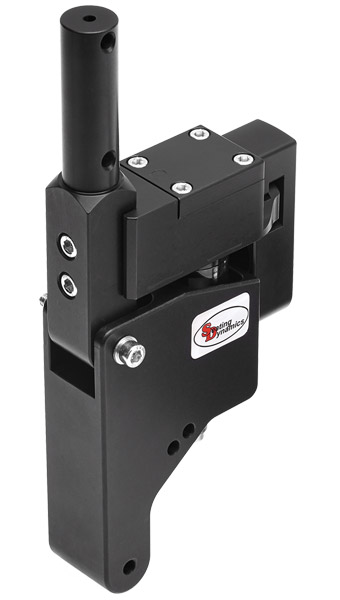 The Seating Dynamics Rocker Back interface is a suspension assembly installed between the seat and the back of a wheelchair.  Originally designed to prevent breakage of the seat frame or back canes, the DRBi has proven itself a capable therapeutic tool.
Users who experience uncontrolled violent movements such as extensor tone or sensory seeking may benefit from dynamic components.  We have reports of a calming effect on tone and improvement in behavior.
Benefits Of Dynamic Backs
The benefits of a Dynamic Rocker Back are numerous.  Reports of improved posture in the torso and head, upper extremity relaxation, ability to effectively use communication devices, behavioral improvements, calming of tone and general improvement in quality of life for the users and caregivers are some of the common comments we hear. The financial benefit of improved wheelchair reliability and extended life should not be overlooked.  The "suspension" absorbs energy which would otherwise be transmitted into the wheelchair, thus minimizing or eliminating damage to the wheelchair.  This translates to more up-time, less down-time, fewer repairs and an extended wheelchair life.
Reduced Shear Reclining Back
This reduced shear recliner is available as a simple bolt on unit for virtually any wheelchair with back canes that are mounted to the seat with brackets having 1" hole spacing. It also provides for height adjustment from 21″ to 27″ using the adjustable back canes.  It offers approximately 65° of recline and a raised pivot point to reduce shear. Optionally adjustable stroller handles are available.
Contact us today for a consultation, quote, or for more information.