Jeff – Enhancing Development through Movement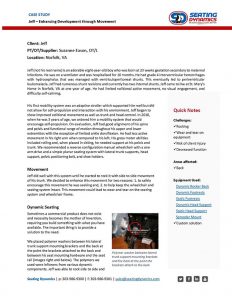 Jeff was born at 23 weeks gestation secondary to maternal infections. He was on a ventilator and was hospitalized for 10 months. He had grade 4 interventricular hemorrhages with hydrocephalus that was managed with ventriculoperitoneal shunts. This eventually led to periventricular leukomalacia. Jeff had numerous shunt revisions and currently has two internal shunts. He came to live at St. Mary's Home in Norfolk, VA at one year of age. He had limited volitional active movement, no visual engagement, and difficulty self-calming.
His first mobility system was an adaptive stroller which supported him well but did not allow for self-propulsion and interaction with his environment. Jeff began to show improved volitional movement as well as trunk and head control. In 2010, when he was 3 years of age, we ordered him a mobility system that would encourage self-propulsion. As he grew older, we worked to enhance his development through movement. Download his Dynamic Seating Case Study to learn about his journey.
"I believe that allowing a seating system to move with an individual will enhance his or her development through neuroplasticity."
Suzanne Eason, OT/L, Norfolk, VA
Download Dynamic Seating Case Study